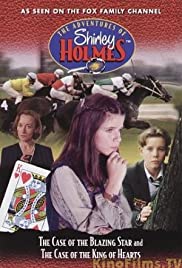 Опис:
A teenage girl named Shirley who, with her 'side kick' Bo, (think Sherlock Holmes and Watson) are always in the middle of a new crime that needs solving, and who better to do it than the legendary Sherlock Holmes' great grand-niece Shirley?
Слично за гледање
Коментари
Otac devojčice Sare Bler je bankrotirao i prinuđen je da bude u kućnom pritvoru. Da bi ćerku poštedeo od mogućih neprijatnosti, odlučuje da je sa dadiljom Luizom, pošalje na Ostrvo Princa Edvarda, u...

Antološka serija horor priča prema pripovetkama iz knjiga za decu Roberta Lorensa Stina, poznatog i kao Džovijal Bob Stin i Erik Afabi, američkog noveliste, pisca kratkih priča, televizijskog...

A group of kids calling themselves "The Midnight Society" spends each episode sitting around a campfire swapping scary stories. Creepy, but never gory or excessively frightening, common subjects...