ТВ серија
Are You Afraid of the Dark?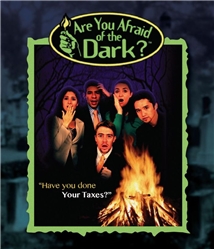 Опис:
A group of kids calling themselves "The Midnight Society" spends each episode sitting around a campfire swapping scary stories. Creepy, but never gory or excessively frightening, common subjects included haunted houses, what goes on behind the neighbor's walls, and other things that go bump in the night.
Слично за гледање
Коментари (1)
A teenage girl named Shirley who, with her 'side kick' Bo, (think Sherlock Holmes and Watson) are always in the middle of a new crime that needs solving, and who better to do it than the legendary...

Rejčel je pozvana da bude član tajnog Ponoćnog Društva. A da bi postala član ona mora da ispriča neku zastrašujuću priču koja će uplašiti ostale članove. Rejčel odluči da ispriča priču iz svojih...

"R.L. Stine's The Haunting Hour" is an anthology series aimed at kids and teens, and inspired by the stories of horror master R.L. Stine. Each thirty minute episode is a tale of horror and suspense...