ТВ серија
Kidô Senshi Gundam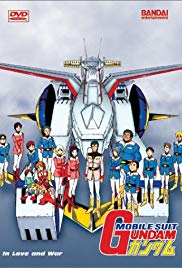 Опис:
Godina je 0079. Izbio je rat između Kneževine Zeon, svemirske kolonije koja želi nezavisnost, i Zemaljske federacije. Tinejdžer mora upravljatinovim tajnim oružjem Federacije kada svemirsku koloniju u kojoj živi napadnu giagantski roboti Zeona kojima pilotiraju ljudi. To novo tajno oružje zove se Gundam, a moćno je mobilno odelo. Priča prati Amura Raya i mnoge druge civile njegove starosti koji moraju preuzeti svemirski brod Federacije i postati vojnici da bi preživeli u sukobu protiv Zeonovih snaga tokom Jednogodišnjeg rata.
Слично за гледање
Коментари
In the future, humanity has constructed several space colonies. But the corrupt Treize and his organization Oz have manipulated the United Earth Sphere Alliance into controlling earth and its...

In the distant future, mankind has used up all of its fossil fuels, forcing them to turn to Solar Power as an alternate energy source. As a result, this causes a rift to form between richer and...

One hot summer day, a young girl suddenly appears in front of Tenchi claming the he's her papa! Everyone wonders who the mother could be, and this greatly upsets Ryoko, and she wants the new rival to...