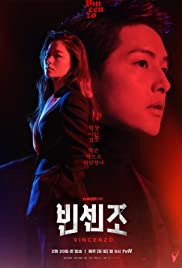 Опис:
Vincenzo, mafijaški savjetnik, dolazi u Južnu Koreju iz Italije zbog unutarorganizacijskog sukoba; i zapetljava se s veteranom skitnicom-advokatom koji provodi pravdu poput negativca …
Слично за гледање
Коментари
In a hellish future where human beings have become stupefied by the state of permanent happiness they have been genetically altered to experience, Jack (Peter Scanavino) offers relief via drugs that...

Eun Som, a cursed child born in Blue Stone Village under an ominous sign. He later becomes a conqueror of Asadal, taking it from city-state to empire. Ta Gon, a war hero among the Saenyeok Tribe and...

Kang Ma-Ru is a promising medical student, until he takes the blame for a crime he didn't commit. When he finds an opportunity for revenge, he takes it, using Seo Eun-Gi. Ma-Ru soon discovers that...