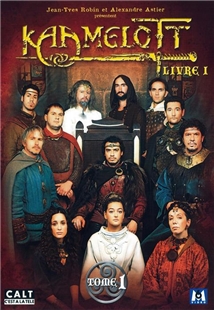 Година:
2004
Жанр:
комедија
,
фантазија
,
авантура
Автори:
Alexandre Astier
Главни улоги:
Alexandre Astier
>
Arthur, roi de Bretagne
Lionnel Astier
>
Léodagan, roi de Carmélide
Franck Pitiot
>
Perceval, chevalier du Pays de Galles
Jean-Christophe Hembert
>
Karadoc, chevalier de Vannes
Thomas Cousseau
>
Lancelot, chevalier du Lac
Anne Girouard
>
Guenièvre, femme d'Arthur
Nicolas Gabion
>
Bohort, roi de Gaunes
Jean-Robert Lombard
>
Père Blaise, prêtre de Kaamelott
Alexandre Astier
>
Arthur
Simon Astier
>
Yvain, chevalier au Lion, frère de Guenièvre
Stéphane Margot
>
Calogrenant, roi de Calédonie
Anne Girouard
>
Guenièvre
Alain Chapuis
>
Le tavernier
Aurélien Portehaut
>
Gauvain, chevalier, neveu d'Arthur
Caroline Ferrus
>
Mevanwi, femme de Karadoc
Опис:
Neobična priča o kralju Arturu i njegovoj potrazi za Svetim gralom. Naravno, tu su i vitezovi Okruglog stola, svako s svojom sudbinom, pa čak i onom koja podrazumeva kukavičluk, pohlepu, ili potpuno neprimerene odluke. Sve napravljeno u najčišćoj tradiciji sitkoma...
Слично за гледање
Коментари (5)
Odile Deray je ataše za štampu filma Red is Dead, u kojem serijski ubica koristi čekić i srp kao svoje oružje za ubijanje. Pozvana je na filmski festival u Cannesu, gde se suočava s jednoglasnim...

A French village and its inhabitants go through the ups and (mainly) downs of the occupation by the German army from 1940 to 1945. The village doctor is assigned as mayor, and confronted with the...

Three half-brothers are reunited at their mother's funeral. After being told of their inheritance they quickly spend the money, only to find out that they will not receive it after all. The men grow...